The Ultimate Guide to Teaching English in Dubai, UAE
The United Arab Emirates is indeed one of the hottest (literally) countries to teach English. With the booming economy and tourism of this young nation, you will find yourself with brimming opportunities for teaching English to Emiratis and other foreigners. 
UAE's foundation was in 1971, and since then it has become the global hub for finance, trading and travel. It is a rich country with vast desert lands, serene white beaches, dotted with man-made islands and modern skyscrapers.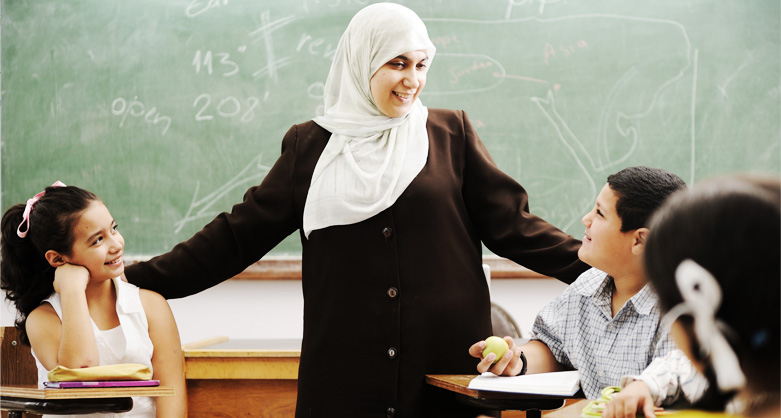 Is it Safe to Teach in the UAE?
Yes, it is definitely safe to teach and live in the UAE! In fact, it is the second safest country in the world. Don't be misled by the horrifying news from its neighbouring countries.
Although UAE has a diverse society due to the massive influx of expatriates, it is still an Islamic country. Its people are generally accommodating and hospitable. But to have an enjoyable and safe stay, you need to learn traditions and culture. 
If you respect local culture and laws, teaching English (or living) in UAE will be nothing different from teaching from any foreign country. 
Requirements for Teaching in Dubai, UAE
Different schools in UAE require different requirements. If you are vying for a teaching job in the best institutions in the country, you will be required to have: 
Master's or Bachelor's degree
Teaching License
TEFL or teaching certificates (attested, if earned outside the UAE)
At least 2-3 years experience
Medical fitness report from UAE
Criminal clearance record
For midrange schools, you will be required at a minimum a bachelor's degree instead of masters and the experience will slightly vary. It is always an advantage to have a CELTA or an Online TEFL certification to showcase your credibility to teach in English in a classroom setting. 
Info: Make sure that your documents are attested by the Ministry of Foreign Affairs and International Cooperation and the embassy of your country in the UAE. The authenticity of submitted documents is a priority, especially for processing the visa.
Can I teach English in Dubai without a degree?
The answer is NO. Most schools in Dubai prefer teachers with at least a degree, while some prefer a degree in the subject you will be teaching. Other requirements include teaching license, TEFL certificate and/or teaching experience.
However, there are some schools in other emirates like Fujairah or Ajman that will hire teachers who have an undergraduate degree - but, they need to be TEFL certified (CELTA or TESOL Online).
The qualifications for a bachelor's degree and teaching certifications are set by the UAE Ministry of Education to comply with the visa requirements for a teaching job. Earning a TESOL, CELTA or TEFL certificate before looking for teaching jobs in the UAE is highly recommended. 
Do I need to know Arabic to teach English in Dubai, UAE?
The answer is NO. UAE, being a global centre, has English as its second language. You will find street signs, restaurant menus, advertisements mostly written in English (with Arabic translation). You do not need to learn the language, but of course, it is a bonus point to converse with the Emiratis and other Arabic foreigners who will appreciate your effort of learning their language and culture. 
Some schools also find it favourable if you have experience in other Arabic-speaking nations. You will also see it along the way that learning an Arabic word or two will help you start a friendly conversation with the people of the UAE. 
Can I teach English in Dubai without teaching experience?
Most of the schools in Dubai prefer teachers with experience. However, you can find jobs without a degree to teach foreign families or private tutoring to professionals who want to brush up their use of the English language for career advancements.  
With the growing industries in tourism and hospitality in the region that require knowledge in the English language, more opportunities to teach English are waiting for teachers with or without work experience.
Do I need a license to teach in UAE?
Technically, yes. In 2017, the Ministry of Education had rolled out the first phase of TLS or Teacher's Licensing System in the UAE. This teaching license will officially be part of the requirements for the teaching professionals in the UAE comes 2020. This will allow educators in public or private schools to work legally in the UAE.  
So, does that mean that there is no more chance to get a job if one does not have a teaching license?
- Cheer up; it is not the end of the world – yet! Be persistent in finding a teaching job. With a bit of luck, unwavering determination and a TEFL or teaching certificate, you can increase your chances of getting an English teaching job in the UAE. 
Types of Teaching Opportunities
Expatriates comprise three-fourths of the UAE's population, and this is expected to increase. With the growth of its population and the influx of ex-pats, it is no surprise that foreign English teachers will find more work opportunities in the country. 
Private Schools
Classes in private schools are from Sunday to Thursday, 7:30 am to 2 pm with an hour break for lunch. These schools have the best modern facilities that include computer labs, gym and theatre. They follow the curriculum that is close to what you are used to in your home country.  
Students are mostly ex-pats in private schools and are generally enthusiastic and motivated. Co-educational is allowed for almost private schools. 
Public Schools
Public schools in UAE are now open for all residents, but UAE nationals get to study for free. You will have the privilege to be part of the ongoing reform for the educational system of UAE. English teachers are being paired with Arabic teachers to aid in moving from the traditional way of teaching in the country.  
The class size is usually from 20 to 30 and students are segregated by gender. But starting 2018, grade one classes are already allowed for mixed gender. Additionally, female teachers can teach any gender, but male teachers are only allowed to teach males. Teaching in public schools is a great chance for you to discover the rich culture of the Emiratis.  
Language Schools
There are famous language school chains that have reached the UAE due to the high demand for adults and professionals to improve their business English. Work schedules for language schools depend on your students and usually fall during the evenings and weekends.  
Private Tutoring
If you want an additional gig on the side, you can teach English to ex-pats and Emiratis. This could even be your chance to be the teacher for princes and princesses of the seven emirates. There are certain agencies which handle the recruitment for these opportunities. 
You can also network with other ex-pats in the country who may know families who are looking for tutors to teach their kids at home. This is an extra income for you, and it pays great. You need to have your own visa (resident, spouse or parental visa) to have a part-time job for tutoring.  
Salary and Benefits
How much money can you earn while teaching English in Dubai, UAE?
If you find a teaching job in the UAE, consider yourself lucky. You get a high salary, plus you get tax free income. Monthly income for teachers ranges from AED 8,500 to AED 25,000 depending on the institution and your qualifications. 
Your company will also provide a package that includes: 
Health insurance
Yearly airfare ticket to home country
Free accommodation or accommodation allowance
Paid vacation (mid-July to September, plus national holidays)
Some institutions give relocation or furniture allowance and provide health insurance, airfare ticket and education allowance up to 3 dependents. 
Contracts are usually for a minimum of 2 years. They also provide end of service bonus or gratuity, which is equivalent to one month's pay multiplied by the years of service.
How to Find Teaching Jobs in UAE?
The starting point for your job hunting will always be online job sites. There are a lot of advertised vacancies on different portals like: 
Another option is to research the schools in the UAE and check their websites. Most often, they do not allow email applications. But if they do, send your cover letter and CV to their designated email address. Typically, you will need to register and submit all the required details for your application on their site. 
Also, some institutions are using recruitment agencies to facilitate their hiring. You can check some organizations like Search Associates, which connects teachers to different schools and assist with the entire process.
Info: Please check the reputation of the school or the recruitment agency before you apply. There are a lot of job scams in the UAE. If they charge you a fee when applying, turn down the offer. This is not allowed as per the UAE labour law.
Best Time to Apply for a Teaching Job in Dubai
Generally, universities and schools in UAE start in August or September. So, the best time to apply is during summer, sometime from April to July. To avoid last-minute visa issues, most teachers are hired well in advance so that the visa is processed prior to their departure. However, at some schools and locations in UAE, the vacancies for English teachers will be available throughout the year.
Visa and Documents 
To enter and work in UAE, you need to have a valid visa. You can enter with a tourist visa but to legally work, you need to have a working visa. Your employer will take all the work for you, but make sure that you have all your documents attested (transcript of records, teaching license, certificates, etc.) for a smooth visa processing. 
After receiving your working visa, you will undergo a medical exam that includes x-ray, blood test and/or urine test. After that, they will issue your resident visa and Emirates ID. The whole process will take 1 to 3 months. 
Popular Teaching Destinations in UAE 
UAE has seven Emirates. While you can find teaching opportunities anywhere in the country, here are the top three teaching destinations: 
Dubai 
Being the most luxurious city in the Middle East, you will find yourself in the middle of high-end hotels, gigantic shopping malls, world's best infrastructures (like Burj Khalifa, Dubai Mall and Burj Al Arab) and urban lifestyle. There are so many teaching opportunities for the children of ex-pats as well as professionals who want to work on their business English. 
Abu Dhabi 
It is the largest Emirate in the country, and while it has modern infrastructures, it has maintained its cultural heritage. It has a rather laid-back life as compared to the flashy Dubai, especially in cities like Al Ain and Al Gharbia. It is the hub for education with the United Arab Emirates University and other well-known schools headquartered in this Emirate. 
Sharjah 
Sharjah is just 25 minutes drive from Dubai. It has preserved the original culture, with the Persian and Oman Gulf overlooking this third largest Emirate. Considered as the land of the educated Arab, Sharjah has received international accolades for the quality standards of its education. 
10 Key Facts about Living in UAE
While UAE is considered a modern country, you will be introduced to many things that are entirely new to what you're used to. Here are some essential things that you need to know if you will be working and living in the UAE. 

You will be denied entry if you have entry/exit stamps from Israel. 
You need a license to purchase alcohol from legal vendors in the UAE. In Sharjah, no alcohol is allowed in the Emirate.  
You need to pay for accommodation yearly. There is no refund if you leave before the end of the contract. 
If your employer or hotel wants to keep your passport, turn them down. By law, they could not keep your passport in their possession. 
Weekends are different. It starts earlier in the UAE – Friday and Saturday. The work week begins on Sunday until Thursday. 
If the temperature drops from 40 degrees, it is great weather. The weather in UAE is extremely hot, so something colder than 40 is already refreshing. 
For ladies, you do not need to cover up but make sure to dress more modestly during Ramadan. 
Public display of affection is not allowed. You can be fined for this offence, especially when in malls or public places. 
Even if it is a Muslim country, pork is available in most supermarkets. But only selected restaurants or hotels are allowed to serve pork. 
Don't drink, eat or smoke in public during Ramadan, as this is their holy month of fasting. 
Leisure activities while teaching in Dubai, UAE
You will never get bored in the UAE. There is always something that will keep your days busy. Check these adventures that you can try between teaching and getting amazed by the beauty of the country. 
Watersports 
Get out and enjoy the beaches in the UAE. You can try jet ski, fly board or diving. Sailing is also popular, so hop to a yacht or dhow (traditional Arab sailboat) and enjoy the ride in the Dubai Creek or Marina Bay. You can also enjoy water adventures at Wild Wadi Waterpark, Atlantis Aquaventure and Yas Waterworld. 
Outdoor Activities 
Do you love hiking or camping? How about dune bashing? You will enjoy the thrilling experience of Desert Safari by driving up and down the sand dunes and riding the camel. And for the not faint-hearted, you can try skydiving and watch the incredible views of The Palm Jumeirah up above. 
Entertainment 
From shopping malls, museums, theme parks to theatres, UAE got you covered. Shop at the second largest mall in the world, Dubai Mall.  
Popular theme parks include the Ferrari World, Dubai Parks and Resorts, IMG, Miracle Garden, Global Village, Ski Dubai and Warner Bros. 
For the culture and art lovers, don't miss out visiting Louvre, Etihad Museum and Dubai Opera House.   
Dining and More 
Being the crossroad of different nationalities, you will get a taste of every culinary there is – from Asian, American, Persian or Italian. Try the sumptuous weekend brunch buffets in hotels to complete your dining experience. 
And if you have extra dirhams to spend, check-in at the most luxurious hotels to feel the 7-star, world-class accommodation at Burj Al Arab and Emirates Palace. 
Teaching English in the UAE can be lucrative, with high and tax-free salary. It can also be your opportunity to try new adventures and learn a different culture that will widen your horizon and enrich your life.